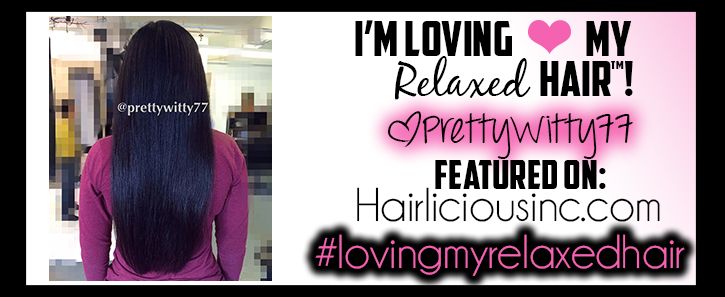 Introduce yourself! what's your name? where are you from?
HEY! I'm Whitney, also known as Prettywitty77. I'm from Austin, Texas.
How would you describe your hair? What's your hair type?
My hair is very dense & thick. It has tons of texture as well. According to the hair typing system and months of stretching my relaxers, I believe that my hair is 4A.
When did you start your relaxed hair journey? What is your hair regimen? Share a few of your "go-to" hair products.
I started my relaxed hair journey in January of 2011. I keep my regimen simple: Deep condition 1x a week, co-wash 1x a week & protein treatment about every 3 weeks. I only comb through my hair in the shower with conditioner in it under running water. My hair is moisturized & sealed nightly. My hair seems to LOVE Herbal Essences' Hello Hydration conditioner. Extra virgin coconut oil is another thing that my hair loves.
Check out the full article over at Hairliciousinc.com Loving My Relaxed Hair™ Presents:
PrettyWitty77