Introduce yourself! what's your name? where are you from?
Hello My name is Antoinette. I am a wife, & mother of 2 (boy/girl). I grew up as a 'military brat' so I am from 'Everywhere"(fun fact: I was born in Germany). I moved to Ohio in 2005 after I graduated from Morris College in South Carolina (I have a Bachelors in Business Administration). I currently live in Ohio – so I call this home.
How would you describe your hair? What's your hair type?
Before I started my hair journey (January 2011) my hair was thin, but over the years it has thickened up tremendously (which I love). I've never really been interested in hair types, so I'm not sure what my type may be.
When did you start your relaxed hair journey? What is your hair regimen? Share a few of your "go-to" hair products.
I started my Hair Journey January 2011 at neck length. My hair was not damaged when I started my hair journey but I just wanted to grow it longer. I knew that in order to achieve healthier hair, I needed to practice healthier routines (i.e. not relaxing every 4-6 weeks, wearing protective styles etc).

My Regimen
Wash days are Sundays! I pre-poo with Jamaican black castor oil mixed with peppermint essential oil. I add this mixture to my scalp only. I then apply a light protein conditioner to the ends of my hair and put on my heating cap for 30min. I shampoo with Keracare hydrating and detangling sulfate-free shampoo.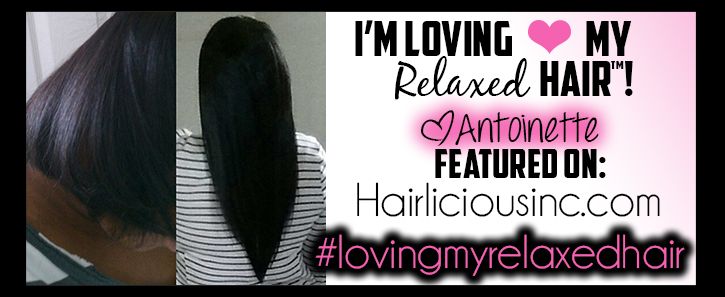 Check out the full article over at Hairliciousinc.com Loving My Relaxed Hair™ Presents: Antoinette